This was the tournament I had been thinking about since about half way on my drive back from the National Championship last November.  Once you get to BASS Nation Nationals and you are one step from the Classic, it really creates a burn to get back and finish the job.
Planning and prepping, my game plan going into this event was to focus on main lake offshore smallies.  In my mind, if I found 15-30 spots with quality fish potential, I could rotate through them hitting the sweet spots and creating a big bag every day and possibly supplement with a few shallow fish as needed.
I had 4 days of practice before the event, after two full days fishing the tops of the prime pieces of structure, I was really struggling.  With the mid-summer cold front, it really seemed to knock these fish off the edges onto isolated cover and they really were not schooled up in very many places.  With my final two days I shifted a focus for more shallow isolated cover.  I had two days of practice doing that and caught some really nice fish and pulled on many more.
My game plan revolved around hitting a few key offshore spots early to get a few solid bites early and then grind the rest of the days on specific shallow targets.  Day 1, I had a first flight draw and Zach from Indiana, who didn't get much practice in, so he was willing to go along with my game plan.  After a 2 plus hour fog delay, we got to my starting spot and Zach got a good fish on a Big Hammer swimbait on my starting spot and I got a walleye on a tube.  We ran more spots, I picked up 3 small fish on tubes and one 3lbr, but I opted to throw back a 13″ smallie due to bleeding.  About mid day, I could tell the bite was super tough and I went to every spot I knew just to try to fill a limit, both shallow and deep, chasing largies and smallies and only Zach got one more keeper on a wacky senko.  What a disaster, starting with 3 fish for 6lbs and change, National dreams DEAD!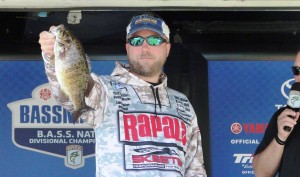 Many guys struggled, but the leader for Minnesota Corey Brant sacked almost 17lbs and I was dead last on the MN team.  My day 2 partner was from WI and he zeroed on day 1, we agreed to work together and just try to catch solid limits for team weight.  My starting spot produced 4 fish for me and 2 for Kyler and one of mine was close to 4lbs.  We made a run through my spots working west towards Kyler's fish.  His grass fish didn't go, but I gave some advice to him and we both ended up with limits and culling from Norwegian Bay.  I ended up with a modest 12lb bag and moved up on spot on the team.  The good news, Minnesota had grown our lead from about 18lbs on day 1 to close to 50lbs on day 2.  With our sights set on the Three Peat of winning this event for 3rd consecutive year and defending our home turf!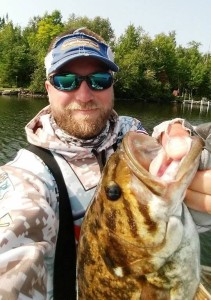 Day 3 I drew Jim B from Wisconsin, agreeing we were both out of contention, we decided to have a fun and just go fishing.  I was not able to get on my starting spot, but my second spot had some good smallies busting on the surface.  We both got 3lb class fish to commit to topwaters and also picked up some keepers on jerkbaits.
Working west under foggy conditions, I filled my limit and culled  few times fishing both deep and shallow.  Going to Jim's water in the last few hours, we both ended up culling a few more times.  I had almost 13lbs and Jim got the better bites to get 14lbs.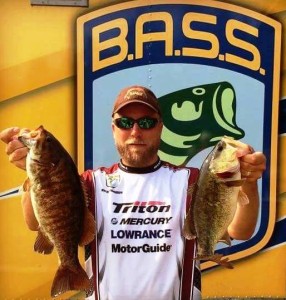 Minnesota extended our lead and took home another boat, kudos to a great team and a bunch of new friends.  Special congrats to my buddy and roommate Corey Brant who will be representing MN at Nationals on the Ouachita River in November!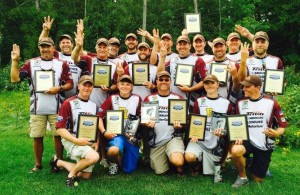 My best smallie baits were a Bone Colored topwater and green pumpkin tubes rigged stupid style on a 3/16oz BassTEK Agitator head.  When I went west and fished shallow the best baits were 3/8oz BassTEK Tungsten Flipping jig in crawdad with menace grub trailer and in weedier areas, I flipped a Tramp Stamp Sweet Beaver on 1/2oz BassTEK Tungsten Flipping weights.
Check out and subscribe to my YouTube channel to see some of my fish catching highlights from both last year's TOC and this years practice and tournament.  I will get the video edited and posted in a few weeks!
No rest for the weary, this week I will be at Gull Lake near Brainered for the BASS Nation MN TOC, looking to start the path back to Divisionals and Nationals again….