Bass fishing rivers like the upper Mississippi River can be intimidating to many anglers especially in the early spring. In reality, river fishing can be more predictable than lake or reservoir fishing once you understand that current really drives bass in rivers.
A recent fishing trip on Pool 4 of the Mississippi river really got me thinking about this topic, here is a video of my trip if you are more of a visual video learner instead of a reader. Either way, I am going to share some basic tips & lures that will shorten the learning curve for you when it comes to early spring bass fishing on rivers.
There are two main strategies or paths to find bass on rivers in the spring. You can either figure out where they winter and start looking close to there and follow them out or you can figure out where they spawn and back out from those areas until you collide with them.
Understanding wintering areas can be a little trickier to nail down on some rivers, but spawning areas are usually a little easier to identify from my perspective.
Smallmouth Bass like to have a little current and some hard bottom where they spawn, they typically avoid dead water for their spawning on rivers.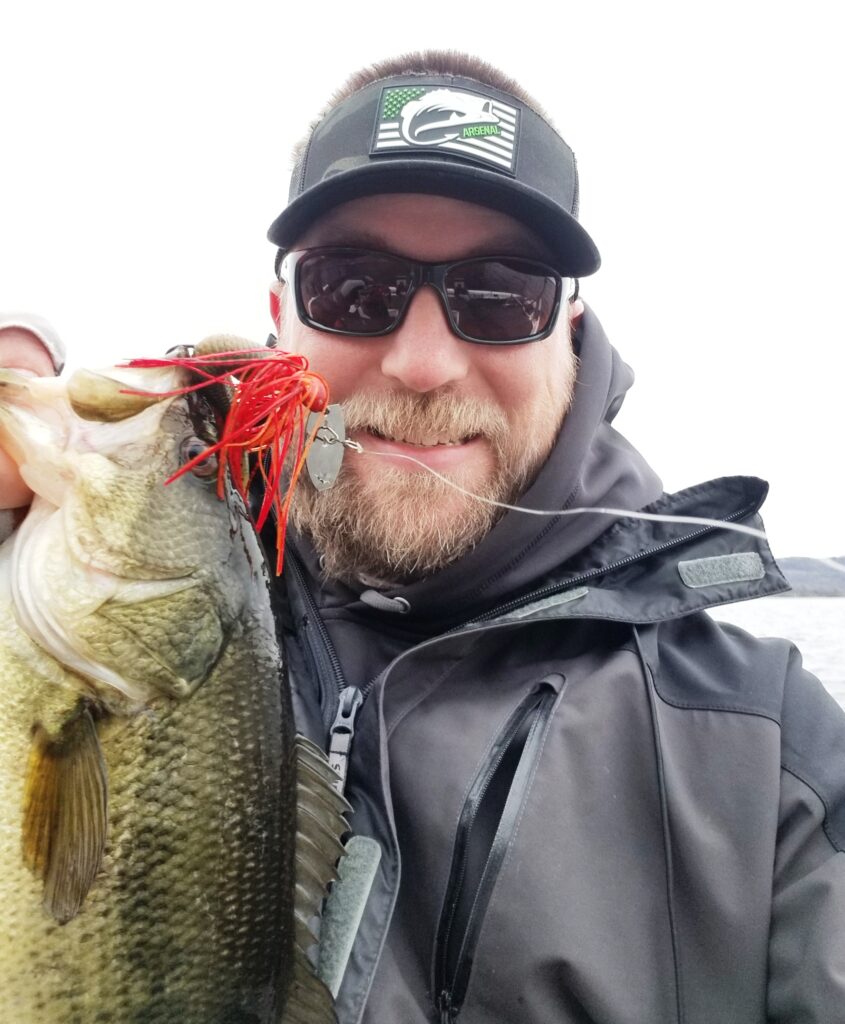 Chunky Largemouth that fell for a Fire Craw Bladed Jig
On the other hand, Largemouth are much more apt to find completely slack or no current areas with firm bottom for their reproductive cycle. For largies, I like to look for dead-end backwaters and sloughs with good cover, like wood, grass and some firm bottom or stumps to target as spawning areas.
Once the water temperature gets above 50 degrees, those fish won't be too far away from where they plan to spawn. River fish are also pretty dependable biters in the spring. I love covering water with 1/4oz Super K Swim jigs and 3/8oz Bladed style jigs (Chatterbaits). Black and blue always seems to be a solid choice on rivers around me in the spring. Keep on the move until you run into a few fish and where there is a few, there is often a bunch not too far away.
If you are interested in checking out Super K swim jigs, use Code HELLABASS15 on their site to save 15% off!
Also, below is a list of other great products for catching bass in the early spring on river across the country. Tight lines!
Super K Swim Jigs – http://bit.ly/SuperKSJs
Strike King Menace Grub – http://bit.ly/2y22Zzt
SuperK Klakken – http://bit.ly/Klakken
Arsenal Tactical Minnow – http://bit.ly/TactMin
Zman Jackhammer Chatterbait – http://bit.ly/2nSdTpD
Strike King Thunder Cricket – http://bit.ly/ThundCrick
Need more help about how to fish chatterbaits vs Swim jigs and when to throw each one, check out this video below