I was definitely extra excited about this TOC, not sure if it was I am fresh of making it to Nationals a few weeks ago or the fact that Vermillion is such a great fishery and the found memories I have from my 2008 visit for a Bassmaster Weekend Series, where I took 6th.
On Saturday morning I started fishing shallow and the very first bite I got was a 4lb smallie on a Big Bite Baits tube, and down that stretch I pulled on several more fish and caught another solid 2.5lb smallie, not a bad start.  From there it was a bit of a chore, bites were further and farther between the rest of the day, sticking to mostly shallow and dabbling a bit off shore.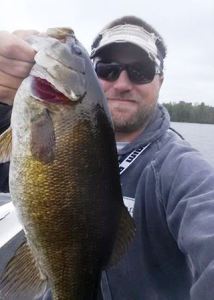 On Sunday, I stayed with the plan to stick shallow and keep covering water looking for more productive water that fit my strengths and preference.  I got a few 3lb class fish, but mostly 2lbs and under, the highlight of the day was catching 2 muskies in 12 minutes.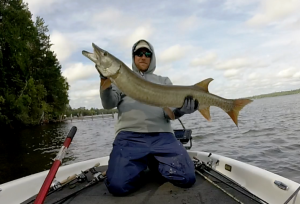 Monday, I decided to check more of the West End of the lake looking at Largemouth water and I honestly had a pretty good day, good numbers decent quality with a few of the right fish mixed in.  Nearly all these fish that I caught or pulled on were choking a 3/8oz BassTEK Tungsten Jig in Okee Craw.  I felt this was a pretty decent option if I couldn't get on a more consistent smallmouth bite on Tuesday.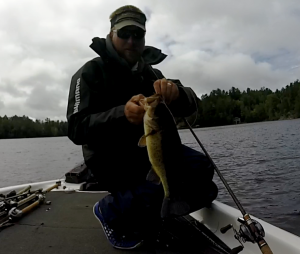 On Tuesday, I practiced with club mate Corey Brant, we stayed on the Tower end of the lake and chased smallies with a larger emphasis on off shore structure.  We definitely both added spots to our game plan and had pretty productive day.
I drew out with friend and former Gopher Bass club mate John Fairbanks, we were in 2nd flight.  We decided to start on a hump that John had, then run some of my water and then finish on his stuff.
After a 2 plus hour lightening delay, we started with reaction baits, but after seeing a fish nose my bait, I decided to pick up a tube.  The first cast yielded a 4.74lb brute of a smallie and a few casts later another 4lb class smallmouth bass.  We tried to milk the area some more, but it seemed like the action was over.
From there I ran a series of shallow areas where I filled my limit, culled a few times and John got 3 fish for about 8lbs.  All my fish came on tubes.  We hit an isolated hump that I had, where I made a small upgrade.  We then shifted to John's areas for the last two hours, but nothing panned out.  The day went by fast with that 2 hour delay.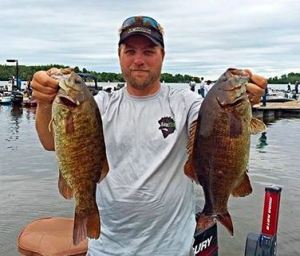 My total weight was 15.54lbs which put me in 5th place after day 1 and positioned right in the mix with one day to go.
My day 2 partner Dan brought in a respectable 10lbs on the first day, but deferred to let me run the show since I was 5lbs ahead of him.  We started on an isolated hump on day 2, again the reaction bait was fruitless, but the tube put a 3lb smallie in the boat and another keeper pretty quickly.  I hopped around other humps and points in the area to fill my limit and then came back to the starting hump to catch my big fish of nearly 4lbs on the tube again, giving me 2 good fish, 1 okay fish and 2 small fish at about 9:30am.
My partner had a spot that he felt good about in the area, so we spent some time there and as I was about to suggest to leave, I got a 3lb class fish there.  We gave that a little more time, hit another spot and revisited the big fish hump without anymore bites.  It was almost 11am and I decided I would hit my water back towards the narrows possibly on the way to some largemouth if that didn't work out.  As I was about to reach the west end of Ely Island, my main motor just shut down.
I tried to restart it, nothing.  Took the cowling off to look for loose wires, didn't see any (turns out later, it was a wire clip that popped off my fuel pump).  So we were effectively dead in the water about 4 miles from take-off at the half way point of the day.  We were able to get towed in and switched to my partners boat, but it was after 1pm by the time we were headed back out.
Long story short, my partner got one keeper, I caught a few small keepers and one that upgraded me by about 4-6oz, but we never really got back on track.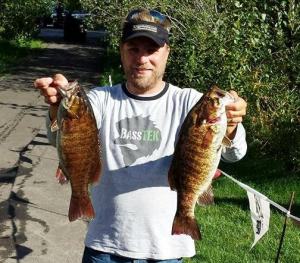 I ended up with 14.64 on day 2, which crept me up one spot to 4th for the tournament.  Which if you are not first, 2 though 6 are all boaters at divisionals.  Fairly satisfied, but I definitely have to win one of these after 2 seconds, 2 thirds and now 3 fourths, plus Tweet Gate.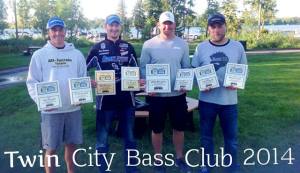 Kudos to my Twin City Bass Club team on another team victory at the TOC as well.  All 4 of us made the Top 12 and divisionals next summer in MN (hopefully on Vermillion).   Also, shout out to Fortune Bay Resort, they did a great job hosting us and I hope they get to host next year's BASS Nation Northern Divisional.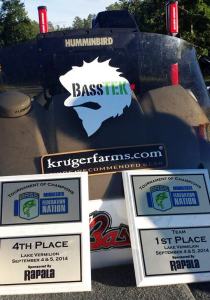 My primary setup was a Big Bite Baits tube on a Tungsten Agitator Head fished with 14lb Sunline fluoro and a Dobyns DX743C casting rod.
Sorry no GoPro video from this event, between wet conditions and large waves each day at take off, I didn't bother setting it up, didn't want it to be a distraction.  Might be some practice bass fishing video released next August….