Had fished several Northern Divisionals in the past and a few of them in Illinois and other states with tough fishing, I was mentally prepared for a tough tournament long before started driving.
It actually turned out to be tougher then I actually thought and the actual tourney days were more difficult then the practice days.  My first practice day I got out on the water sometime after 8am on Saturday, after driving through the night and catching a quick nap in the truck.  In summary I caught about 8-10 shorts that day fishing the end towards the dam on buzzbaits and squarebills, but actually had quite a few bites and action, just no size.  I also spent a few hours scanning the mouth of Moores Creek, found lots of good structure and cover, but no bites.  At our team meeting, none of the MN team got on much of anything, few fish here and there.  With one boat finding some fish way up the the Middle Fork on the slow side.
Day 2 I fished with one of our Highschool anglers Matt, I chose to spend the majority of the day covering Moores creek and look at all the shallow water.  By no means was it gang busters, but slowly we started building a shallow pattern throwing buzzbaits, buzz frogs and flipping a 3/8oz Okeechobee Craw BassTEK Tungsten jig.  As the day went on, we took the pattern to other pockets and creeks and it held.  Between the fish caught and shook off that we saw, I would have had an easy 16lb plus bag.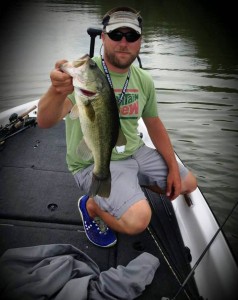 On practice days 3 and 4, I focused on looking at as many pockets and creek arms as I could and looking for more water to fit my pattern.  As the week went on, the buzzbait seemed to fade and the senko and creature bait bite seemed to be better, plus shad seemed to move around quite a bit.  Also, I started finding bites in shallow clumpy grass as well.  Slowly, most of our team got on this pattern as well, with a few guys also fishing a few deep channel swing spots.
All of practice was pretty much rain and clouds, the tourney forecast was all about bluebird skies, sun and little to no wind, so I knew things would get tougher and change.
Day 1 I drew out in 2nd flight with a Gary Adkins from Wisconsin, he was on a completely different deal fishing deep, but we had water in the same parts of the lake, so we opted to work together throughout the day.  I spent the first 2 hours and change running my best shallow water and we ended up both missing bites, I broke a fluoro leader on a senko and he couldn't convert on a topwater fish.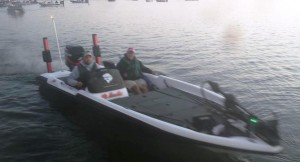 The next 3 hours we spent working his deep areas with hardly a tap, both frustrated with things, we went to Allen's creek to flip grass, Gary ended up getting a 3-02 flipping a sweet beaver in sprayed grass.  We got a few more bites there, but nothing that kept.  During that time I took control of the front of the boat and tried some more grass in that area.  From there I went to Ramp Creek where I had an isolated weed clump that I pulled on a good fish the day before.  First flip with a Rage Bug and I put a 3-03 in the boat.
We finished our day in Ramp and then a sunken brush pile just south of Ramp, no more bites or fish.  That one quality fish had me tied for 30th out of 96 anglers on day 1 and about 5 lbs back of the top Minnesota guy and qualifying for Nationals.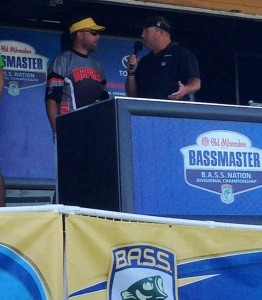 Day 2, I had Jesse Weener from Michigan, he was 2nd coming into the day.  He had caught 4 fish for around 9lbs on day 1.  We also agreed to work together.  The 2nd day, I chose to start in Ramp, fished several pockets and we each got a short on topwater, then finally in the back on a beaver dam I scored a 15 inch fish on weightless senko.  From there I ran into an isolated pocket where I had pulled on a fish on Tuesday and then actually spooked again on first tourney day.  Same thing, I ended up spooking fish with my buzzbait, mental note, planned to come back later to get him.
During the middle part of the day, we went to Jesse's area which was around Cutright.  He was catching most of his fish on a drop shot (dream shot dirt color), fishing shallow around points and docks.  He ended up getting a pretty good fish on the first pass.  The nest pass, I got keeper throwing my senko to sandy patches and points in grass clumps.  Before we left Jesse got one more good keeper on a senko as well.
With a little bit of time left on my clock, I ran back that isolated fish, first cast with my senko, I put him in the boat and it was scramble time to get back to weigh-in.  Long story, short, ran out of gas about 2 miles from Four Winds.  Thanks to Ed Rounsaville from Indiana for picking us up with our fish, total life saver and yes, I am an idiot for running out of gas.
My 3 fish weighed 7-02 and I jumped up to 12th place, but I was actually 4th on my team still and 3-15 back from our leader and had to leap 3 anglers on the final day.  Also good news, the Minnesota team jumped from 4th place to 1st place in the team competition.
Day 3, I ended up with the Illinois team alternate and I got to run my water all day.  I stuck to my pattern, but threw buzzbait less and fished soft plastics more.  Even with that, it took me until almost noon to get my first fish in the boat in the back of a pocket on a senko.  It was only about 14.25″ and didn't weigh much, so I knew I needed one more good fish to catch the leader to have a chance if he stumbled.  I kept with it and got another fish just before 2pm that I felt put me really close to the 4lb mark between the 2 fish, but in my head I really thought I needed one more fish to make it happen.
I fished hard to the bitter end, but it never happened, 2 fish was all I would end up with.  I made it back to weigh-in with plenty of gas and a few minutes to spare.  I was first flight and 2nd angler from my team to weigh in.  When I weighed the number was 3lbs 15oz to take the lead and I wasn't certain whether I had enough.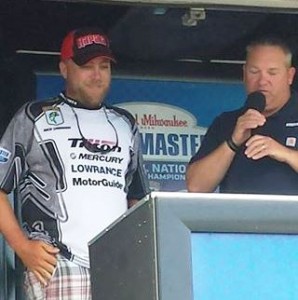 I ended up with exactly that weight, while talking to Jon Stewart, I was pretty casual knowing that 2 more anglers that only need a fish or two were still coming to weigh and I was certain it wouldn't hold.
About half way through the weigh-in, all the guys that were close to me had weighed except the day 2 leader had weighed and I was still in the top position for Minnesota.  Then word got to me that our leader had zeroed on day 3.  Honestly, I was couldn't believe it at first, it definitely took awhile to set in and I did't want to get excited until all MN anglers crossed the stage.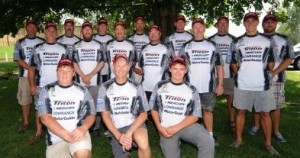 Well it turned out to be official, my 6 fish for 14lbs 4oz over 3 days was good enough for 8th place overall and a trip to the BASS Nation Nationals in November on the Ouachita River.  My main setup for my fish in tournament was a 5″ senko stick worm fished weightless on a 4/0 EWG hook, 12lb SX1 Sunline Braid fished on a Dobyns Champion 702SF Spinning Rod.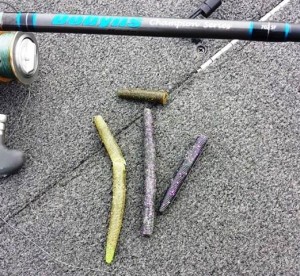 This was my 6th divisional and it feels awesome to finally make it to Nationals and be part of a team that won back to back boats at the divisionals.  Assuming Italy sends an angler to this event, I basically have a 1 in 9 chance to fish my way to the 2015 Bassmaster Classic on Lake Hartwell.  I have been tournament bass fishing for about 20 years now and I have been working for this the whole time.
Next week is our Minnesota TOC state qualifier on Lake Vermillion, after that, I will be 100% focused on the Ouachita River.
Sorry no GoPro video, wasn't much for fish catching on this trip, but I should get some great stuff from Vermillion.