First off, I am not happy or pleased with how I finished at the B.A.S.S. Nation National Championship presented by Old Milwaukee. But it for sure was an honor to represent the State of MN and the Minnesota B.A.S.S. Federation Nation in this event. I assure you all it was not for a lack of effort, but likely came down to some decision making on locations in the end.
I was fortunate to get about 2.5 days of pre-practice before the cut-off and based on my research I had made up my mind, win, lose or draw, to put all my eggs into fishing D'arbonne Bayou.  The little info that was available suggested most tourneys were won in there and that the average size of fish was better there.  It also suggested that you would sacrifice the number of bites one could potentially get, but the chance of quality fish was best there.
My entire pre-practice was spent in the 35 mile long bayou and its adjoining sloughs.  The first morning, I launched at the spillway below D'arbonne Lake where Jamie Horton had won the previous Championship held here.  It was full of bait and gar, but not much from bass that I could find.  The rest of the day, my dad and I explored the upper 1/3 of D'Arbonne, finding a few fish and lots of time learning to navigate.  I would've had a decent limit fishing square bills on cypress trees and my dad got some decent bites flipping plastic.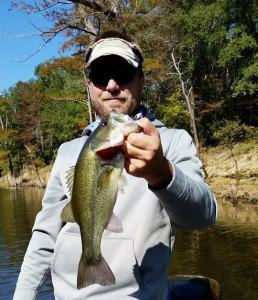 My next practice day, we launched at Hollands Bluff and fished from the mouth of Long Slough down to Cross Bayou, and checked out Circle Slough and the part of Cross.  It was actually a pretty good, day, we got on a deal where we were nearly calling our shots when we found deeper cypress trees with 3-5′ of water on them, mostly flipping a beaver to the shady sides of targets.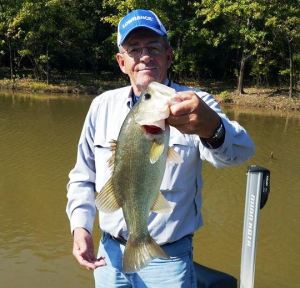 My last day I looked the middle part of the bayou, the bean field and the other side of Cross bayou, had to sort through small bites, but would have managed a limit and starting to build confidence in the style of fishing.
The first official practice day, I made the 80 minute run from take-off to the spillway.  Coby Carden off Alabama arrived moments after I and we both checked things out, I never saw him catch anything and I only managed two small spotted bass on a Muscle Squared crankbait.  From there, I started working my way down the bayou checking on stuff from pre-practice, I caught a decent keeper on a square bill early on and then switched to flipping so I could better pull on fish.  And the bites came fairly steady while flipping, some felt better then others, but I pulled on them all.  I felt pretty confident that I could have had a decent limit fairly early that morning, but there was also a lot of traffic in the upper bayou where I was.  All in all it was a very good practice day, until I made a mis-step in the S-turns on my way back in and put a nasty gouge in the bottom of the boat.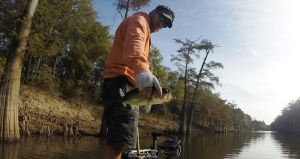 My second and final official practice day was spent riding shotgun with Brett Reid (Ohio Youth Director) who was awesome enough to take me out while my boat was getting patched.  I concentrated on the lower end of the bayou.  I started in Cross and caught a fish on a spinnerbait way in the back by the small bridge and had another bite on a buzzbait.  On the way back out, I had several fish hit a crankbait that I pulled on and also pulled on some bites on laydowns flipping.  From there I checked out areas and it wasn't awesome, but I was getting bites on my square bill and flipping.  I ended up catching 3 keepers and pulled on several more.
Not sure if I over thought things in my head or let the patch get in my head, but I decided to fish the lower bayou on day 1, and move up the next two days.  I started and worked large sections of Cross Bayous with nothing but frustration to show, thinking maybe I had a few short strikes on my square bill.  Moving up to some of my deeper cypress tree fields, it took me until after 10am to boat my first keeper and it was barely a keeper at that.  The next large field yield two more keepers flipping a beaver, but 3 fish for 3-15 was all I could manage and was mired in 41st place after day 1.
Below is a video show casing the boat ride from Forstyh Park to D'arbonne Spillway that I did on the first practice day, but wished I had done every tournament day.
On day 2, I started in the deeper trees, quickly caught a 13″ keeper, but the rest of the large area produced nothing.  My second produced a barely keeper and the 3rd area I fished a large area and only for one more keeper.  From there I ran about 15 miles up the bayou and fished some key areas on the way back down and scratched out a small limit flipping a hematoma beaver and a Junebug Kompak craw.  I felt better about getting a limit and staying in the game, I moved up about 10 spots, but lost ground on the leaders of my division.
On the final day, I felt I had two choices, either go all the way up to the spillway and fish my way down, or enter a larger slough or bayou on the lower end and just keep my baits wet.  As far back as I was, I convinced myself to stay away from where several of the leaders were fishing, even though, that was my primary area in practice, and I spent a little time in Cross bayou where I caught a decent keeper on a spinnerbait and then the rest of the day in Boggy.  I managed two more keepers in Boggy, on spinnerbait and chatterbait, plus a handful of shorts and a few more short strikes.  Another 3 fish for 3lbs and change effort made for a disappointing finish.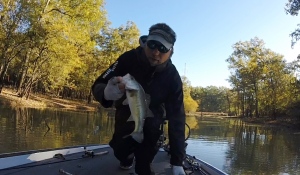 I actually fished a very clean tournament, not losing any fish that I had hooked, but felt very angry with myself that I didn't commit to the upper end of the bayou where 4 of the 6 classic qualifiers spent the majority of their time.  Most of us know that bass fishing is very mental and comes down to decisions and I am not happy with my decisions made each morning.  Which made for a long drive home to MN from Louisiana and will make for a longer then normal winter.
The next video is a sampler of fishing scenery & a few fish catches
Thanks to all of you that texted, emailed, messaged me during practice and before each day of competition. Also thanks to the Family, Friends & Sponsors that helped me along the journey.
BASS puts on a first class event at this level and I am fueled more then ever to fish hard to get back! Congrats to the 6 anglers who "Survived" the Ouachita River, as it was very tough on equipment and the anglers all week!
Last video is a compilation of take-off and weigh-in video from each day of the event.
Plus I met a lot of new bass friends at this event, the group representing the Northern Division was a great bunch of guys to hangout with all week as well as the anglers from other states and countries.
I look forward to getting back to another BASS National event and the next shot is in August on Lake Vermillion, it will be a dog fight being on MN waters, but I look forward to the challenge!
Thanks!
Rich