First off, my last tournament, which was the Lakeville Pan-O-Prog bass tournament was a total bomb, 6 fish for 10.4lbs, first time not cashing a check in that event.  So after having a terrible weekend of practice for this Gull Lake state tournament, I was itching to get my swagger back as my fishing confidence was definitely pretty low.
I had some success on Gull back in a BASS Nation State Tournament in 2001 where I was runner up, but since then, only fished there a handful of times with mix results and since then, there is a lot more milfoil and cleaner water due to zebra mussels, so fishing what worked 10+ years ago probably wasn't the answer.
My game plan for this tournament was to keep an open mind and rely on my strengths, which is power fishing with a jig.  I stated the first morning with a topwater as that produced fish the weekend before, but the fish really weren't having it.  From there I fished new water bouncing around deep and shallow, mostly fishing a 1/2oz BassTEK Tungsten Flipping jig paired with a Stike King Menace grub as a trailer.  Focusing on points and inside turns on weedlines and other shallow areas that looked good based on wind and current conditions.  It didn't take me to long to fill my limit and start upgrading a bit at a time.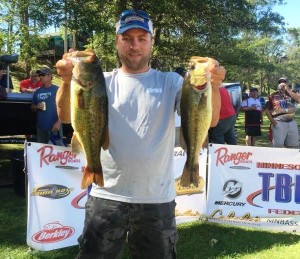 Mid morning I got two really good bites, a 3.5lb fish deep and a 4.45lb fish shallow, both on a jig, from there I just kept at it and upgraded a few ounces here and there to get to 14.37lbs, which was good enough for 2nd place after day 1.  Thanks to Rick Pelletier for some great net jobs and going along with the flow as I made things up as we went.
It felt great to be near the top of the leaderboard after day 1, but I also new that I would have to fish mostly new water on day 2 and that withouth getting a few key bites, 8lb was as likely a results as another 13-14lbs bag.  On day 2, I drew former club member Steve Brummer and he was more then game to fish the moment and the conditions as well.
Day 2 started with a few decent fish and a few small fish to fill an early limit and then we bounced around slowly keeping my jig wet and bites came steadily building a decent limit.  My biggest fish on day 2 was 3.3lbs and the rest were all 2 to 2.75lb fish.
The main keys for me were not fishing history and fishing the conditions and having a bait that I had a ton of confidence in.  I chose my jig because it required little maintenance.  On day 2 I only went through 2 jig trailers due to my Jig Sling keeping it on place and secure, which meant more time casting and less time fixing my bait.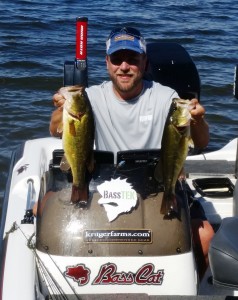 The end result was 13.62lbs and a 1st place finish.  Felt great to get a win over a solid field with several local Gull anglers in the field.  Also, cool that my dad was able to finish 4th on the non-boater side, so we both qualified for the 2016 TBF Northern Divisional in South Dakota next year.  Final Results Here.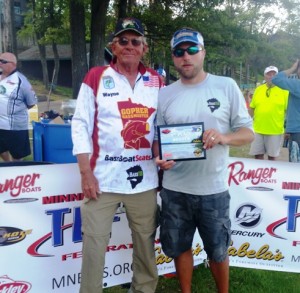 My setup was a 1/2oz BassTEK Jig (New Blue Gill Color), Jig Sling and Menace Grub trailer, 20lb Sunline Sniper Fluorocarbon and Dobyns DX705C Rod.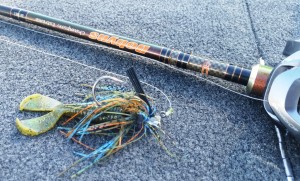 For a video recap & most of the fish catches, check out the video captured from my GoPro camera below.
Coming up, I have the BASS Nation Northern Divisional on Lake Vermillion in late August and in early September a BASS Nation TOC back on Gull.  Hoping to stay on a roll for the next two!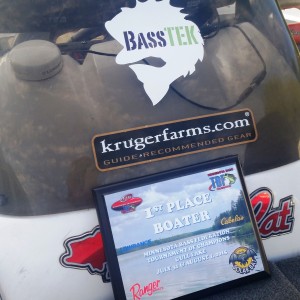 Rich