Well I arrived at the Fortune Bay Casino RV Park around 4:30pm, just enough time to tie up some last minute stuff and walk down to the dock for a few minutes before it was time to head to the pre-tournament meeting. The meeting was at BayView Lodge and it was packed with anglers for the meeting. With my limited experience on the water, which is 5 hours, 3 weeks prior to this tournament, I was hoping for a late boat draw, so I would get the extra 30 minutes of fishing. As it turned out, I was boat #2 and drew a guy from Hibbing, MN who actually fishes the lake occasionally.
The morning was cool, windy and a bit of a misty rain. I decided I would stick with a shallow stretch that I had found late in my mini-practice. I was the first boat there, but I was not alone very long. It did not take long before Brad Leifermann and Josh Douglas started just down the bank from me. I caught a 3.5lb smallie pretty quickly on a Black Yum 3″ Tube and then a 1.75lbs largie a little further down as the weeds started to show up, my partner got a 13″ largie as well. I then met up with Josh Douglas and he said he caught one 4lb largemouth from where I was headed. As soon as he left, Seth Feider pulled in just down where Josh left. I fished for a few more minutes and Brad & I fished past each other, so I decided to hit some other spots across the bay. About the 4th dock I fished over there, I boated a largemouth close to 4lbs on the tube again.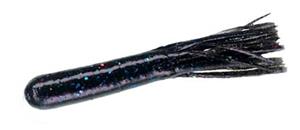 All my tubes & brushhogs were texas rigged with 3/16oz Tru-Tungsten Sinkers
I switched to a 4″ tube same color and hopped down a little further. I threw up next to a dock and got a nice largemouth probably a touch under 3lbs. He swam very quickly out from the dock, so I had a hunch there were more fish there, so I quickly boxed the fish and got my tube back in there and was rewarded with a 4lb largie. That fish ate it aggressively as well, so I kept throwing back. I got one pitch way back and felt some heavy pressure, I reared back and the line broke, felt like a good fish, tough to say. Well that gave me a limit with about 4 really nice fish and one small one.
I went back across to my starting area, where I had a pick up and reared back on another really nice smallmouth that was a dead ringer for the first one, right around 3.5lbs on the tube. It was 8:10am and I had 5 really nice fish, guessing my weight was nearly 17lbs already. We refished a few areas hoping some new fish moved in or others were ready to bite. Nothing doing.
We started working some docks out on the main lake, that I had never fished before, but they had a little wind on them and had the right structure around them. On the second dock, my partner Mark got a nice 3lb smallie on a green Yum baby Wooly Hawg. A little further down, I was sawed off under a lift on my tube, and on the next dock I got a smallie approaching 3lbs on a baby brushhog. I put her on the balance beam with my smallest largemouth and the largie was still heavier. We then tried some areas up near St. Mary's Island with out any action.



We started working our way back, we got into an area where my partner Mark boated two more 3lb class smallies on the Wooly Hawg. I then caught another nice smallie, but the cull beam showed it was lighter then the green fish in the well. Then I got a bigger smallie on the baby brushhog, that finally culled my smallest largemouth at 12:10pm. I figured that fish at about 3.25lbs and that was my smallest fish. We fished hard the rest of the day, running some new water and revisited some areas where we got big bites earlier. Caught a few more fish but nothing that helped us.


Talking to Tournament Director Mike Wells as the scales zero in.
We hit a few docks back by Bayview and I actually got sawed off two more times on a brushhog. Tough to say if those bites would have helped. Either way, I was excited to see what my fish weighed and how I would fare. Having never fished a tournament here before and not really any major tournaments being held here in recent time, I did not have much clue. I was probably the 15th boat to weigh-in. My partner weighed before me and Mark had 9.44lbs for his 3 nice smallmouth. I weighed in next and my 2 largies and 3 smallmouth weighed 17.33lbs, with my big largemouth weighing 4.0lbs. Neither lead at that time, I think was in 3rd at that time.


Holding up my two biggest largemouth that anchored 17.33lb bag
More & more nice bags crossed the scale. I ended up 6th out of 47 boaters. I was a little shocked that the weights were that big and consistent, it took over 17lbs to get a check. See the full standings here.
It would have been nice to get a win or a higher finish to get a bigger check, but I was still happy with my limited practice and the outcome. I also was able to move from 7th to 4th in the overall points with one tournament to go on Lake Minnetonka in late September.


A shot of my 4lb Largemouth and my biggest smallie before releasing the fish to be caught again

Well next week is the MN Bass Federation Nation State Tournament of Champions down on the Mississippi River out of Wabasha – Pool 4, I am pretty excited for that. Mainly because I was so close this year at divisionals, I really want to qualify for next year's divisionals and get another crack at making Nationals. I also will be at the State Fair doing a Bass Tournaments 101 Seminar at the DNR stage on Thursday Aug. 28 – 1pm. So if you are at the fair, check it out & say hi.
Rich
RichLindgren.com
Rich's Bassin' Forum
Bass Fishing Tackle Blog