Starting to lose track how many years I have fished the Pan-O-Prog bass fishing tournament, but I started fishing it every year when I moved to Lakeville, so it must be 9 or 10 years now.  In the early years, I spent quite a bit of time practicing out on Lake Marion, but in recent years, I am lucky if I have 4-5 hours on the lake from one year to the next between tournaments.  After how badly the Bass Pursuit tourney went out there for us, I was hoping to get a little more time.
But this year was no different, I spent a little time scouting the Sunday before the event, bouncing around looking deep for weed growth and potential schools of fish, I found a little of both, but nothing great.  My partner Paul, got out fishing for a few hours as well, and found a few deep fish as well.  We drew boat 31 out of 35 on tournament morning, so with little to go on, we started on a place that had been good to me in the past.
The first stop produced a few small keepers but not what we needed so we tried a few docks and then out to a deep coontail clump.  It didn't take long for Paul and I to fill our limit on drop shots and start the culling process.  The drop shot fish came on 4″ wacky ReSticks and 4″ Biovex Kolt Shad Tails.  You can check out the embedded YouTube video to see our fish catches from the 6 fish that we weighed.
After that spot stopped producing we bounced around the lake finding a few upgrades here and there but mostly fish that wouldn't help.  Right at the end, we returned to our starting area and I got us one final upgrade flipping a Pumpkin Oil Kompak Craw into the milfoil.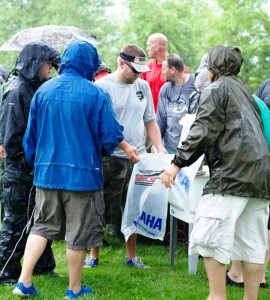 Our final weight was a respectable 18.3lbs, but weights were up this year and it was only good enough for 6th place and small check.  Sometimes the bigger bites just don't fall your way and that is the way it goes.
On to the BFL in La Crosse!