Have you ever seen a tournament-sized Glide bait that looks too good to resist? If you're a bass angler, you probably have, especially if you follow professional anglers and their gear choices. One of the latest baits that caught everyone's attention at the Red Crest tournament was the Trick Shad Glide bait from Bull Shad Baits. Edwin Evers used it for several big fish catches and his third-place finish, but what is it, and why is it so popular?
After some research on message boards and social media, I found out that the Trick Shad is a prototype small tournament Glide bait designed by Mike Bucca, the founder of Bull Shad Baits. It weighs about 2.5 ounces, measures just over 7 inches with the full tail, and has a tight and erratic choppy Glide motion that mimics a Shad's movement. The Trick Shad is fully customizable from a sink rate standpoint, thanks to a removable pin that allows you to adjust the weight and achieve the desired sink speed. The removable pin also allows you to adjust the screws in the joint to change its glide action.
The Trick Shad differs from the existing Bull Shad Shad Glide. The Bucca Shad glide has a wider more traditional glide, as opposed to the tighter action of the Trick Shad glide. Shop more readily available Bull Shad swimbaits here.
I attended the Bassmaster Classic at Knoxville and immediately visited the Bull Shad Booth to see the Trick Shad up close. The regular paint job and the custom paint job were already selling out fast, so I grabbed two, one of each. The regular one looks stunning, with a deep Shad profile and a realistic finish that would appeal to any predator fish. The custom paint job has a holographic Shad color that shines in the water and could trigger more strikes, especially in low-light conditions.
The Trick Shad Glide bait is not a cheap bait, and it sold out quickly at the tournament. However, I felt compelled to buy two, given the scarcity and the potential for a big bite. Comparing it to other baits, such as the River2Sea 168 and the Arashi Glide, the Trick Shad has a similar length and profile but weighs more than the River2Sea and less than the Arashi. The Trick Shad does have rotating hook hangers, and it comes with split rings and hooks or you can add your own if you prefer.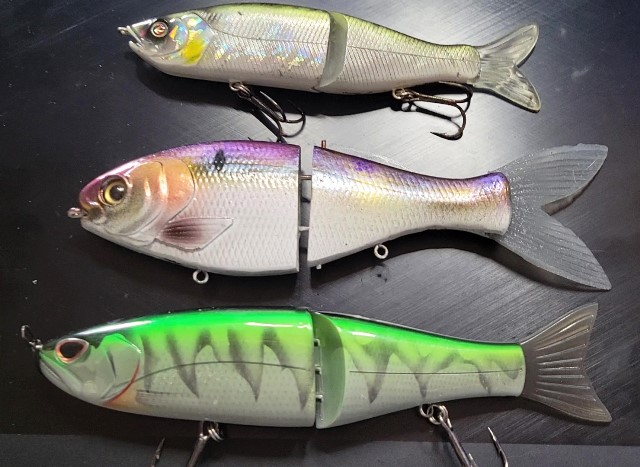 In conclusion, the Trick Shad Glide bait from Bull Shad Baits is a tournament-grade bait that looks, feels, and performs exceptionally well. Its tight and choppy Glide motion, combined with its realistic finish and customizable sink rate, make it an ideal bait for targeting big bass or other predator fish. The Trick Shad may not be widely available yet, but keep an eye on Bull Shad Baits' website or social media pages for updates on its release. Your best bet is to visit the Bull Shad website and sign up for their newsletter to get in on their next bait drops. If you're lucky enough to get your hands on one, you won't regret it.