Talk about a blog long overdue, this tourney ended the Friday after Labor Day.  After a disappointing BASS Nation Divisional event on Vermillion, I was anxious to get back on the path back to BASS Nationals and possible another shot at getting to the Bassmater Classic.
After winning the TBF TOC on Gull earlier in the year, I did have a little confidence coming into the tournament.  I only practiced 3 of the 4 official days allotted, saving some PTO time and being home for first day of kid's school.  All in all, I had a pretty rough practice, spending the majority of my time deep and checking occasional shallow areas, I think I only got a single 3lb bite in 3 days of practice.  While not a great practice, it was actually better then the practice I had for the TBF and that turned out just fine.
I had one area that I was pretty confident that would produce a decent limit on a topwater bait or by flipping the edges of the deep weed edge.  On Day 1, that spot gave up a few small fish on chatterbaits and crankbaits, but nothing that I was looking for.  The day continued, mixing in some offshore with some shallow and ultimately all my fish came shallow skipping a 3/8oz Bluegill Colored BassTEK Tungsten Flipping jig around boat docks.  My best weighed 11.32lbs and had me hovering somewhere around 33rd place out of 188 anglers and after 2 days the top 20 would advance to Lake Guntersville in April 2016.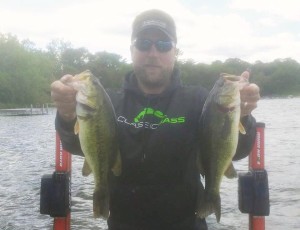 Going into 2nd day, I felt like I need to have about 12lbs to move up enough to make the top 20.  I started out offshore and alternating again and did get once decent keeper flipping a tube craw in 8ft of water, but ultimately leaned on the dock pattern most of the day to fill a limit and catch a few decent 2lb fish.  About mid day, I caught a fish punching a shallow milfoil mat around some wood and it was a nice upgrade at the time.  I took that as a clue and ran that pattern for a bit and culled most of my early limit almost calling my shots for about 90 minutes.  Check out the following video to see some of the fish caught this way.  These punching fish all came in Big Bite Bait Tube Craws in Green Pumpkin with a 3/4oz BassTEK Tungsten Flipping Weight, 20lb Sunline Fluoro on a Dobyns 765 Flipping Stick.
Havaing a box full of 2lbr mid day on this pattern, I was feeling decent knowing I really just need one more good bite.  I spent the rest of the day shallow chasing that bite, but it never materialized.  I ended up with 10lbs on day 2 and remained in about the same place as I stared the day, 34th place.  Kudos to the angler that caught them and are moving on to Guntersville.   I fished very clean and my weight reflected what I caught during practice, just never got those key bites I did in the TBF tournament earlier in the summer.  One slight bright spot, is our bass club Twin City Bass won the team portion of the event for the 3rd year in a row and Brian Bengston is moving on to Guntersville to represent our club.
This was pretty much my last tournament of the year, except for participating in a Minnesota Match Fishing event that was a lot of fun as well.  I did do quite a bite of fun fall fishing in October and early November, I will have some videos coming soon on that, in the mean time, check out my Instagram account to see some of my best catches and 15 second fish catch videos.
Drop a comment if there are things you would like to see on my blog this winter.
Thanks!
Rich