Sorry, this blog is about a month overdue.  First off, the inaugural Classic Bass Champions Tour event was AMAZING!  Classic Bass put on a great event and fishing an MLF (Major League Fishing) style tournament is a completely different kind of pressure over traditional 5 best bass style tournaments.  It was also no coincidence they chose Mille Lacs Lake which was also recently recognized the worlds Best Bass Fishing Lake for 2017 by Bassmasters Magazine!
If you have never seen an MLF event on TV or on the Web, basically every legal keeper bass you catch counts, it is weighed by an in boat judge (thanks to Prior Lake HS Bass Club) and there is a live scoreboard all day through an app on your phone.   The other really unique thing about this event, it was an invite only event, so to participate, you had to be selected.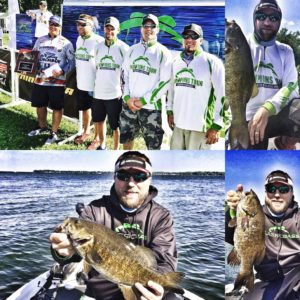 It was on honor just to be selected and I was super excited to fish against this field.  You can see the results and field list here.  I was able to get about 3 days of practice in for this event.  My strategy was to check several parts of the lake so I would be prepared to fish multiple areas since they were likely to section up the lake for our event and to prepare for the wind.  I also wanted to have baits I felt confident in so I wasn't second guessing baits when I was looking for fish fast during the event.  Because of the high winds and rough water, I didn't set up my GoPro during the tournament, but you can check out my practice video which is very similar to how I caught them during the actual event.
The event ended up being split into morning and afternoon sessions, where we had to fish the East side of the lake during the first 4 hours and then after lunch (Thank Rocky Reef Resort for Lunch), we fished the west side of the lake for the final 4 hours.
The split caught me a little off guard based on the wind forecast, I made a big run across the lake only to find the area I planned to fish was completely blown out, I only caught two tiny keepers before getting tired of taking waves over the bow and stern of my boat.  So I ducked into the closest protected water I could find and I hunkered down and made the best I could out of that area that I didn't even practice.  It turned out to be pretty productive, I was able to catch like 18 or 20 fish for about 43lbs which was good enough to be 3rd out of 24 for the first half.  Here is an Instagram Video of the trip back to Rocky Reef at the end of the first half, water was a little rough.
In the second half, I got off to a slow start with only one 2lb fish in like 90 minutes.  Finally, I got into an area where I got around some fish and it was calm enough to properly fish them, I made a big surge late to make it back to 3rd after falling out of the top 6 cut.  Making the top 6 has qualified me for the Tournament of Champions where I get to fish for a Brand New Skeeter Boat in September.  Watch this post tourney interview from Classic Bass as well for details on my day.
I boated smallies on tubes, speed craws, drop shot, hair jigs, but in the end, it was a Menace Grub rigged on an 1/8oz BassTEK Tungsten Agitator head that caught about 80% of my keepers during the event.  I fished this on a Dobyns 702SF rod, 12lb Braid w/ 8lb Fluorocarbon Leader.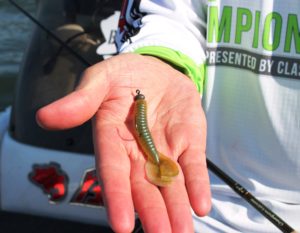 On the horizon, I am fishing the MN TBF TOC on Pokegama and back to Mille Lacs for the Minnesota BASS Nation TOC, so stay tuned for more posts and videos.
Rich