Well the Minnesota Bass Opener is almost 10 days ago now, so I should probably throw a quick blog up, now or never.   Went out in the morning on Crystal Lake with my buddy Bill on Crystal Lake to do a little catching and scouting for a small Bass Pursuit tourney that was on Sunday.
We started out on some deeper drops, but quickly ruled that out with just a few bites and one small fish on a 1/2oz BassTEK Tungsten Football jig.  Next step was to hit some points leading into shallower bays as staging areas.  On the 2nd point, I quickly caught 4 fish on 4 casts with a ring fry on a mojo rig.
From there, we went into some shallower bays and that is where the fish were and coming in as we fished.  It was quite obvious that love was going to be in the air real soon!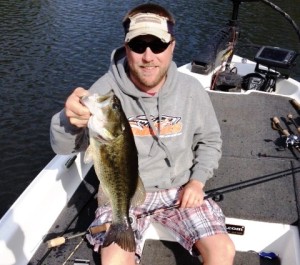 We went on to catch a whole bunch of fish on weightless ring frys and BassTEK resticks rigged weightless and wacky style, including a couple fish over 5lbs.
Also, check out my video montage of the first 3 hours of fishing….