Well, reviewing last minute articles, blogs, video, etc learning all I can in anticipation of tomorrow's launch and fishing. Plus, looking for any angles on last minute Fantasy Fishing roster changes. So I will give you a bunch of links to things of interest. For online classic coverage, check out the online guide .
Bassmaster Classic Live Practice Blog – Nice nuggets from Randall Tharp and others if you comb through it.
Wired2Fish Blog Entry on Practice Stuff – Snippets from McCleland, Kriet, Pace, Combs, Tracy Adams, Remitz, & Russ Lane.

Bill Lowen decides to fish, not run – says he doesn't fish well after long runs and found some stuff on Wednesday to make him stay. It doesn't matter, the Turtle has the new IMA Square Bill on his side!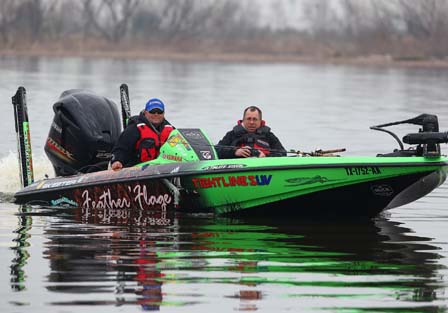 James Overstreet
Bill Lowen idles into a backwater area Wednesday in practice

Practice video reports – Ike & Lowen seem confident
Final Bass Pundit Fantasy Picks – not many surprises here
BassFan Articles – Local Spills Guts, Final Scouting Report, More Scouting
All that said, here are my TWO final rosters, too many leagues, 3 groups is not enough, so I created a 2nd team under 2nd email & identity. One on left is my PRIMARY!
One of these two line-ups should be awesome! Or both average??? Thing your picks are better then mine, join my league & win prizes at every event. That reminds me, I need to get prize ready for the Big O FLW Winner.
Good Luck & Safety to all participants tomorrow and all weekend long! Plenty of updates here and here – http://www.facebook.com/BassinBlog – Also check out & use the #BassmasterClassic hash tag on Twitter – http://twitter.com/#!/search?q=#bassmasterclassic
Playing Field Below
Photo: NOAA
A run to Venice, at the southern tip of the Delta, is well in excess of 100 miles.