My first tournament of the year has come and gone, covering what went down in this blog.  This is the first time I have ever fished an April tournament in MN or WI and not really fished this part of the Mississippi River in April.  For those that hate reading, just jump right to my tournament recap video embedded below.
That being said I have fished several tournaments out of La Crosse including several BFLs.  I was able to get two full days of practice the Thursday and Friday before the tournament and 2 hours on Wednesday night.  From the time I launched my boat on Wednesday night to tournament morning, the water temps went from almost touching 60 degrees to 47-48 degrees in the area I started the tournament on.
In practice, I had decent success flipping a black blue tube rigged with a 1/4oz BassTEK Tungsten Flipping Weight as well as a 3/8oz Bladed Swim Jig paired with a Menace grub worked around wood and grass.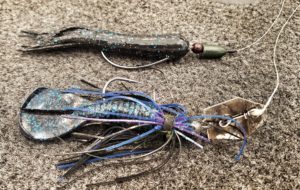 In the end, I could not find the current based staging fish and as cold as the water got, my slack water banks and flats became trash with the rapidly cooling water and it pushed the fish to people like Cade who smashed them!  Check out his video to learn something about Mississippi River bass fishing.
Basically, during the tournament, my bites ended up being cut in a third from practice.  I ended up 69th place out of 154.  In the end, it was good to get the boat out and fish a derby early.  On the down side, I caught a really nice head cold.
I really believe that the guys coming for the FLW Tour in a couple weeks will really catch them on the Mississippi River.  The cold weather we had, will keep them fish from getting to Post Spawn for them, so they should have a lot of shallow biting fish to catch for their event.  I think the weed flats around Stoddard and "The Box" will look and fish like the "Monkey Box" of Lake Okeechobee, other likely popular areas to fish will be Goose Island, Target Lake, & Lawrence Lake in Pool 8 and then Lake Onalaska in Pool 7, a few guys will likely make the run to fish the upper end of Pool 9 as well.  Should be a very exciting tournament to follow, there will likely be spawning fish as well as a few frog fish starting to bite.  Swim Jigs, Chatterbaits, and flipping techniques should be quite strong as well.
In other news, check out this YouTube Fantasy Fishing Picks web series I started if you are into Fantasy Bass Fishing.