Hey all,
Been a long winter, but I am getting the itch big time this spring.  Compared to last year, I am way ahead of the game, I actually got the boat out fishing on the Mississippi River on April 1st, it ran great and we caught some bass, all in all a good start.  Pictured is one of the best fish of they day.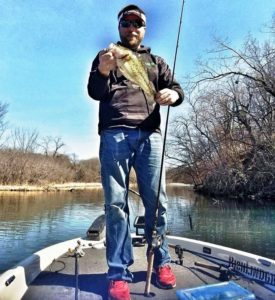 Also, I finally got the bug to do some video editing of previously recorded GoPro footage I had some some drives.  Trying out some new video editing software I just added to my new laptop.
Below is a pretty fun couple of hours of early fall bass fishing with Jason Holmer of Bass Utopia boiled down to 10 mins of highlights.  We only weighed the 3 biggest fish, but the best 5 easily topped 25lbs.
All our fish were caught on flipping jigs and vibrating jigs, my jig of choice was a BassTEK 3/8oz Okeechobee Craw with various trailers.  I also caught several fish later in the day on a Black Blue chatterbait style vibrating bladed jig.
My goal is to produce a lot more video content this year, leave a comment on this blog or on video, let me know what  you want to see.  Maybe even subscribe so you don't miss any new videos!
Tight Lines – Rich
HellaBass on Twitter
HellaBass on Instagram