Sorry for the delays between blogs, been one of those summers, I intend to back fill a few entries as well.
I qualified for this event through the MN TBF TOC on Mille Lacs Lake in late July.  The event ended up being 51 total boats from Minnesota and Wisconsin, in true Pro/Am style money tournament with top boater and co's from each state qualifying for the TBF National Championship next spring.
Monday thru Wednesday were off limits, so I practiced a few hours late on Thursday after work and Friday until the 3pm off the water deadline.  I practiced mostly off shore in practice and felt pretty solid about morning topwaters, transitioning to flipping weed edges to catch a quick 11-12lbs+ and then I would go shallow for a couple upgrades.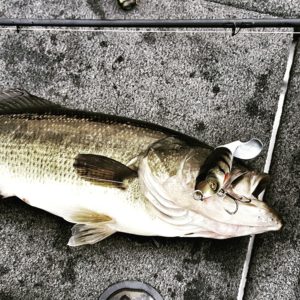 Day 1, I hit several spots only to catch a few small fish on deep weed edges and losing one decent fish rushing a fish to the boat.  My non-boater had a few decent fish as well.  On about our 10th stop we finally hit a group of fish to fill our limits and I got one decent 2.5lb fish.  It was about 2hrs left in day and I decided I need to try to find some fish shallow.  After a few stops, I finally hit a short stretch of docks where I busted a 3.5lb and 5.25lb pair of studs for Gull on a 1/2oz Okee Craw BassTEK Tungsten Jig, tipped with a Strike King Menace grub.
With about 90 mins to go, I had 3 of the right fish and two 14″ fish.  I worked my butt off, caught lots of fish, but only upgraded once for a few ounces, and my co-angler got one decent upgrade as well.  My day one weight ended up being 14.9lbs, which is solid for Gull, but wasted opportunity with a 5lbr in the bag and not being able to catch a few more of the numerous 2lb class fish that reside in Gull.  I was in 10th place and 3lbs off the lead going into Day 2.
Day 2, the fish came quicker, but they were even smaller for me, my co-angler once again caught fewer fish, but seemed to get a few of the right bites on a Flick Shake Green Pumpkin  stick worm, while I continued to flip a Tube Craw on a 3/4oz Tungsten weight.
I went shallower a little earlier on day 2, but took longer to connect with quality fish, but I ended up getting on a stretch where I culled everything in my well in about 45 minutes.  Then I bounced around hitting key docks and got 2 smaller culls in the closing minutes.  I ended up with a touch over 15lbs, which propelled me to 4th place and a decent finish and check.  The leader only weighed 14lbs on day 2, which left the door open, and made me realize even more, I missed my chance to win on Day 1.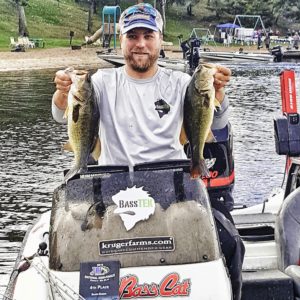 In retrospect, I think if I would have committed to shallow for 8hrs each day, I think I would have gotten the extra bites to be right there for the win, but that is fishing and easy to see looking back.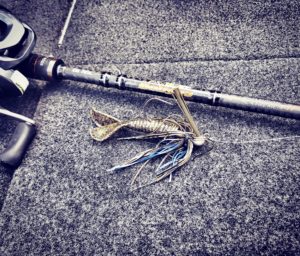 This is the end of my tournament season, hoping to get in some fun fall fishing in the coming weeks and fish well into November like last year.
Maybe find more giants like this…..